A little preview of Losing Hope, you say ? I'm IN!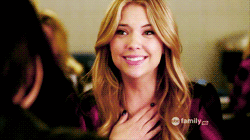 It was a
bonus
scene of Losing Hope with Holder point of view. I really liked it and was looking forward to read the entire book :). Fortunately, I didn't have to wait much because I had an ARC not long after reading this. If you still only had read this scene, you won't be disappointed, but you know that already! The entire book is just
GREAT
. And who doesn't like a guy's point of view once in a while?
I think I love you, Colleen Hoover! Your writing is just fabulous and you can draw the readers into the book in just a few sentences. Well done ;)